สุดยอดSCADAที่ดีที่สุด ครอบคลุมทุกความต้องการ ทุกอุตสาหกรรม ลดภาระค่าใช้จ่ายและเพิ่มศักยภาพการบริหารจัดการ ได้รับการยอมรับจากหน่วยงานทั้งภาครัฐและเอกชนทั่วโลก มาพร้อมWeb dashboardแสดงผลกราฟิก, Alarm, Trend, Chart, ฯลฯ ผ่านเว็บและอุปกรณ์โมบายหลากหลายแพลตฟอร์มไม่พลาดทุกการเปลี่ยนแปลง ทุกที่ ทุกเวลา

Next Generation in HMI SCADA Automation Software
ซื้อGENESIS64จากEDA International รับฟรี
Auto Report สร้างรายงานExcelอัตโนมัติ
และ LINE Alarm ที่เดียวในโลก !!!
GENESIS64™ is an advanced HMI SCADA solution suite designed for Microsoft operating systems. ICONICS GENESIS64 suite delivers unparalleled performance with OPC, BACnet, Modbus, and open standard database connectivity. The GENESIS64 suite provides connectivity from plant floor SCADA and building facilities to corporate business systems. Designed to leverage 64-bit and OPC UA technologies, GENESIS64 allows operators, executives, and IT professionals to integrate real-time manufacturing, energy, and business information into a secure and unified web-enabled visualization dashboard.
Distributed Alarm Management
Enterprise-wide distributed alarm management is provided through AlarmWorX™64, ICONICS' native alarming module. AlarmWorX64 offers the tools to deliver real-time alarm management throughout a system, with ISA 18.2 compliance features. Users can manage alarms with a preconfigured AlarmWorX64 Viewer to integrate into any SCADA or HMI display.
Real-time and Historical Trends
Visualize enterprise-wide data into trends, logs, charts, and reports with the GENESIS64 trending module, TrendWorX™64. Chart real-time and historical data from any relational database to provide users with actionable data. Customize trends with colors, multiple data sources, multiple cursors, and animation. Interact with trends in runtime with multiple playback and filtering functions.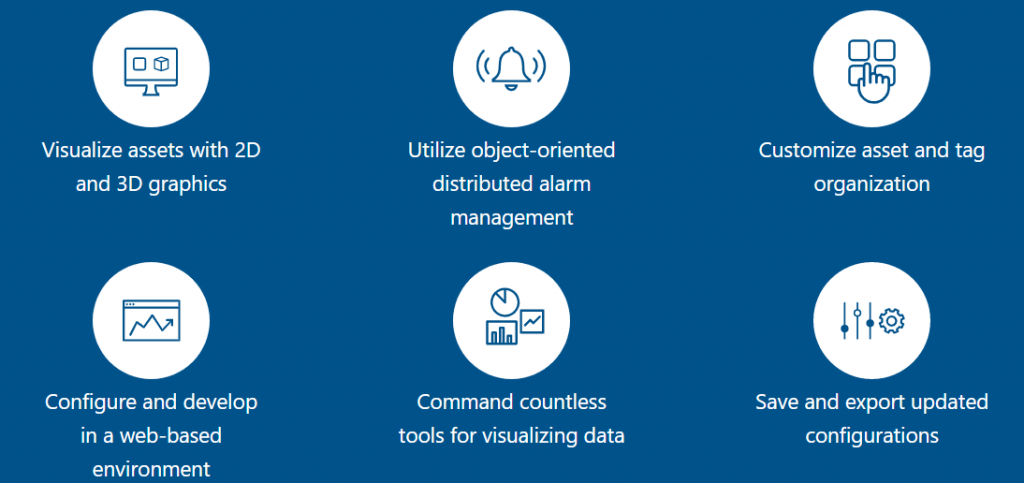 รองรับการทำงานผ่านWeb, iOS, Android, Linux, Windows
รองรับการทำงานบนคลาวด์ เช่น Microsoft Azure, Amazon Web Service และผู้ให้บริการคลาวด์แบบVMทั่วไป
ทำงานได้บนAnyglassรวมทั้งอุปกรณ์สวมใส่อัจฉริยะเพื่อความสะดวกในการทำงาน
---
---
---
VDO สอน GENESIS64 SCADA
---
หากต้องการขอราคาหรือมีข้อซักถามโปรดติดต่อผ่านแบบฟอร์มด้านล่าง และระบุจำนวนtagที่ต้องการ เช่น 75/150/500/1500/5000/15000/50000/…